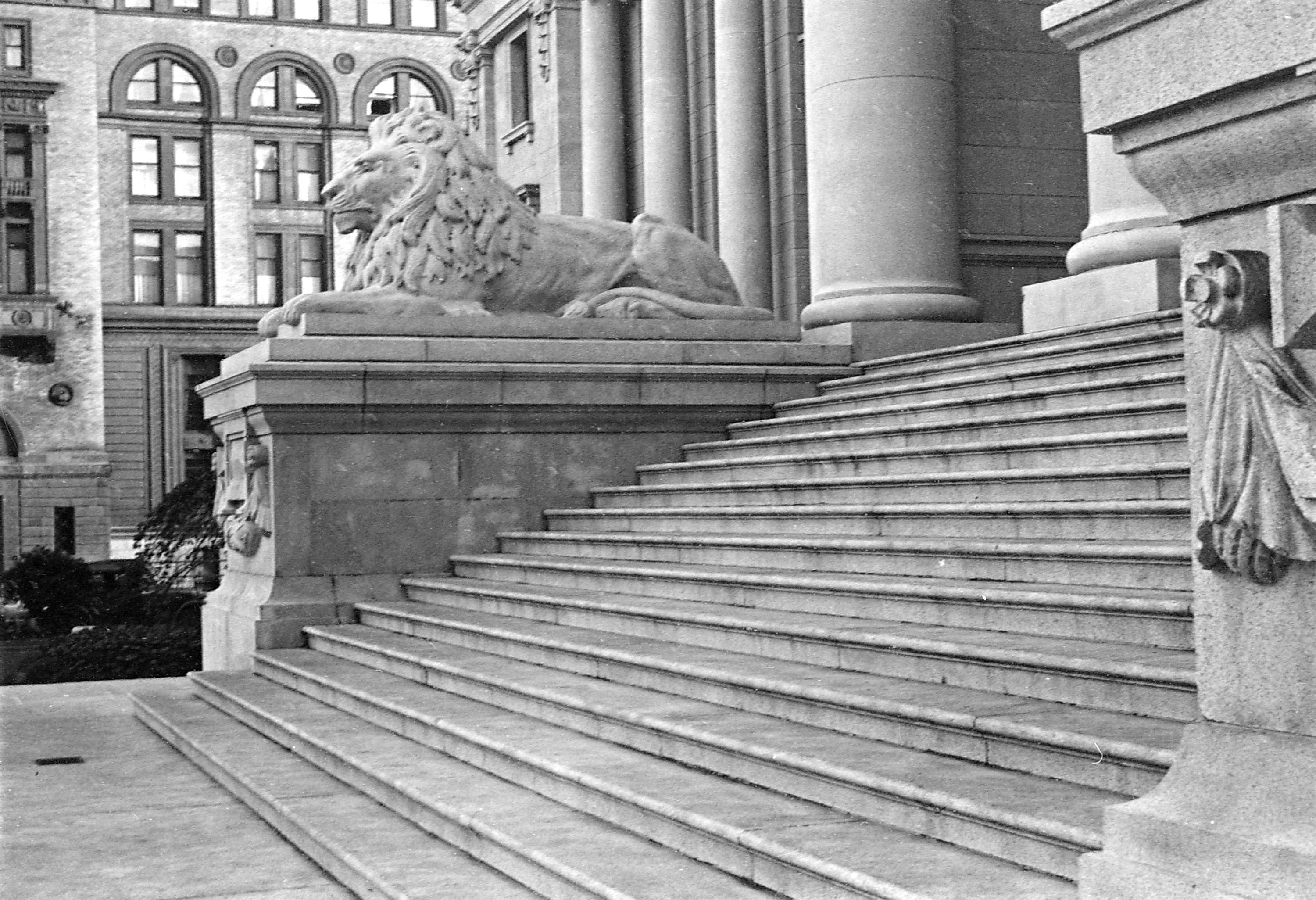 Courthouse Steps © 1936 James Crookall
Sonia had already finished her degree. What remained was ten months of interning in a law firm under an articling supervisor, thus the interning period is called articling. The supervisor is typically a very senior counsel.
She exited from the majestic triple-arch entrance of York County Courthouse. The former Toronto City Hall had not served as a court since 1900 and was now an Italian restaurant. Sonia always thought that courthouses should amount to cavernous hallways, stuffy rooms and intimidating exterior stone steps, which had to be either ascended or descended. Classical columns should display legal authority and preferably statues of lions or the very least historical figures on horseback should spell out where the law reigned. The architecture of the old City Hall did spell this out, which was why Sonia occassionally had lunch there. She could practise ascending and descending.
The courthouse where she attended hearings had none of that. Most court hearings these days took place in a modern court building, carpeted, with elevators. It had a small cafeteria and holding cells in the basement. There were airport-like security gates with RFID cards issued to lawyers and judges. A large waiting area in the lobby overlooked the busy city streets through enormous windows. The lawyers have a lounge on the main floor. Sonia went there often.
While interning she would watch every move the lawyers made and dutifully write down questions they asked their clients. It was slightly more presentation to it than skill, but without skill the examination would just be a blunt instrument rather than a scalpel used to cut testimony apart to get at the truth. And what is the truth? The truth is what the lawyer wants the court to hear. There are always many facets to the same story, even to the same sentence. The clients are interesting people with sad stories. People offend the law for all kinds of different reasons and justice is ultimately a ruling in favour of one's client.